About Us
Preschool Philosophy
It is Scottsdale Academy's philosophy that it is most effective for young children to learn through play, or what we call "strategic fun".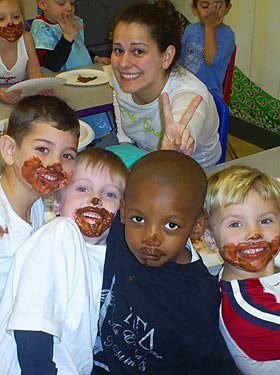 Scottsdale Academy believes in utilizing a curriculum which is developmentally appropriate with fulfilling experiences. Effectively planning the learning experiences through formal lesson planning allows for "strategic fun".  Themes within the curriculum include everything from nature and hygiene to animals and holidays and many other fun topics each month. Our "strategic fun" utilizes music, art, finger play, story time, discussions, sensory activities, logical thinking, and problem solving. By combining physical, emotional, language and social skills through teacher-directed and child-initiated activities, Scottsdale Academy provides a well-balanced early childhood development preschool program.
We embrace all religions, races, and cultures at Scottsdale Academy. We create a sense of community by building upon each child's background, language, and learning abilities so that each child feels a positive sense of self. The children then learn to value, respect, tolerate and become more knowledgeable about their diverse peers and environment. Our baby care and preschools provide a nurturing atmosphere and safety net from negative influences.
You will find we teach children through love, respect, and fun, positive interactions. Our Scottsdale Academy kids love us in return, providing the greatest fulfillment for our staff.