About Us
About Roy and Jennifer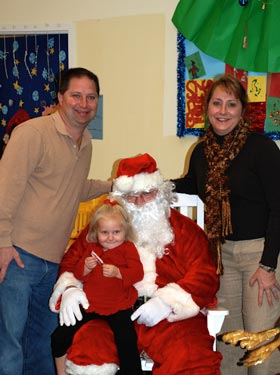 Roy and Jennifer met while working together in 1994. Married in 1996, the Keister's again combined their management talents in 2005, for their own business. All three of their daughters proudly graduated from Scottsdale Academy under their leadership.
Roy Keister has his Bachelor's Degree in Business Management with an extensive background in operations management, human resources, strategic planning and budgeting. Prior to working in the field of early childhood development, his professional career crossed from retail to restaurants. After a decade with Dillard's Department Stores, he was recruited from his position as store manager to guide Steak n' Shake restaurants for the next 8 years. He left his corner office in Atlanta where he was responsible for 65 restaurants, 8 District Managers and 3,500 employees to support his family's growing preschool business.
Jennifer Keister has her Bachelor's Degree in Management and Marketing. Before operating Scottsdale Academy, Jennifer worked for a decade as a Group Director for The Zimmerman Agency, a public relations and advertising firm. She has always worked in a female-dominated field and finds fulfillment in guiding and motivating strong women. Since operating the private preschool in Tallahassee, FL, she has completed extensive work in Early Childhood Education as well as gained her Advanced Level Director's credentials.
Roy and Jennifer's work with the Children's Movement of Florida and multiple Florida Legislative Sessions have included rallying, attending meetings, speaking in front of the Capitol building on behalf of children's issues, Florida House and Senate presentations regarding VPK funding, ratios in the classroom and many other topics.
Scottsdale Academy – History
Scottsdale Academy was established in Sept. 2003 and operated as a childcare center. In August of 2005, Roy and Jennifer Keister purchased the Academy and quickly elevated the service to an early childhood development school. In October 2006, all components of Scottsdale Academy were evaluated including: administration, classroom environment and licensing compliance, parent and community involvement, advocacy on behalf of children and child care, teacher credentials, training and background screening, teacher to child ratios, classroom interactions, literacy and curriculum. The preschool achieved high scores on all indicators of quality. Scottsdale Academy became APPLE accredited (Accredited Professional Preschool Learning Environment) and also achieved the Florida Gold Seal of Quality status.
Recognizing the need for high-quality childcare and consistently being at 100% capacity with a waiting list for new students, the Keisters expanded the Academy by adding a 2,100 square foot expansion in Sept. 2007, consisting of three additional classrooms, a sunroom/multipurpose room, and playground. Further expansion in August 2010, included a second location with a 20,000 square foot facility located in the business district of the popular Southwood community.
After completing the accreditation process again in 2009, 2014 and 2019, Scottsdale Academy's APPLE Accreditation has been extended to October 9, 2024.
Scottsdale Academy continues to be one of the most reputable private preschools in Tallahassee, Florida.